costume actors
Is your corporate or private event in need of people to dress up in costume and work the room, mingling and posing for photos with your guests?  If you have a theme, we have the actors and costumes to pull it off!  With access to hundreds of costumes and a deep talent pool of professional male and female stage actors, let us bring your vision to life and help make your event truly unforgettable.  Perhaps you already have costumes and need professional actors to wear them.  Send those costumes our way and we'll make it happen! 
Corporate & Private Halloween Parties, Themed Corporate Events, Promotional Events, Christmas/Holiday Parties or anything else you can come up with.  If your event needs fun characters to add to it's theme and overall ambiance, we've got what you're looking for.
Call or contact us with your questions, and let us know what you'd like to see at your event.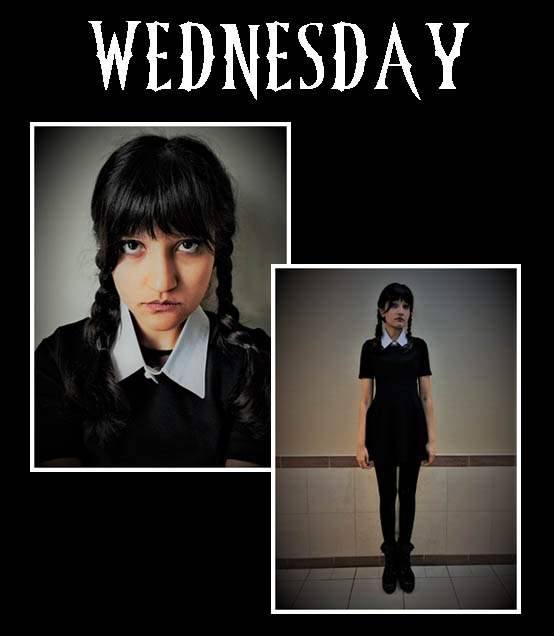 There is no one more in demand these days than the iconic and stone-faced, Wednesday Addams, and wow do we have a mirror image of the original for you.  If you need the delightfully undelightful, Wednesday, to show up at your event to not be happy to be there and to reluctantly pose for photos with your guests, we just might be able to convince her to do so, and as a bonus, she'll bring her "handy" pet "Thing" along with her. Book her for your Halloween or corporate event today and she'll undoubtedly be the death of the party!
Scary Monsters & Creepy Clowns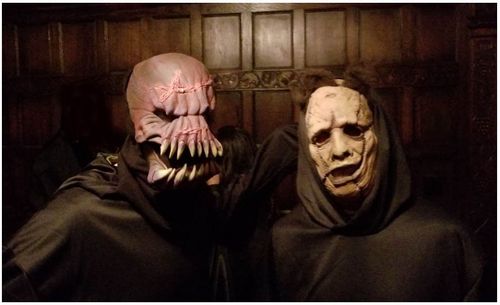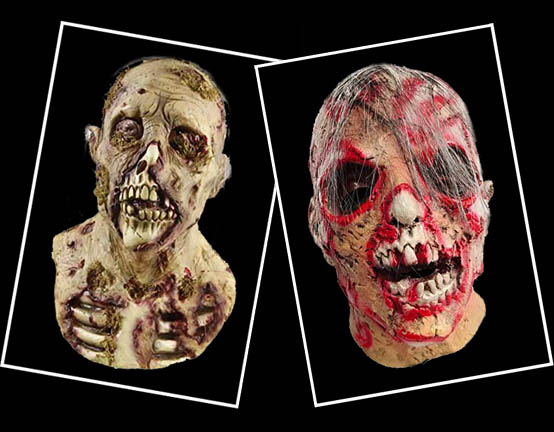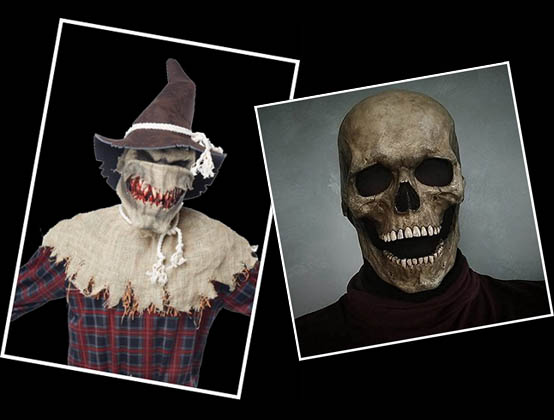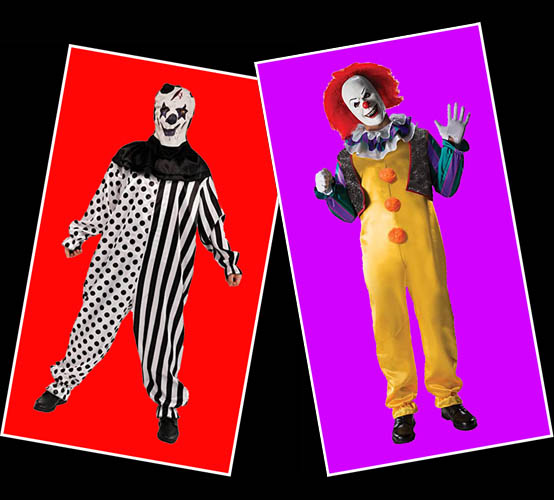 Looking for a creepy character to scare the pants off of your guests at your next event?  We have professional actors skilled in this art who are ready to be transformed into something ghastly, ghoulish or scary just for you.  Leave it with us and we'll dig deep into our own bag of tricks or let us know what level of creepy you want and we'll go out and find it!  Its funny, our actors are all such nice people but dress them in creepy costumes for a couple hours and you'll be having nightmares for weeks!  Of course, it doesn't have to be all creepy all the time.  Have another idea for our costumed actors?  Throw your ideas at us and we'll make it happen!
TV & Movie Characters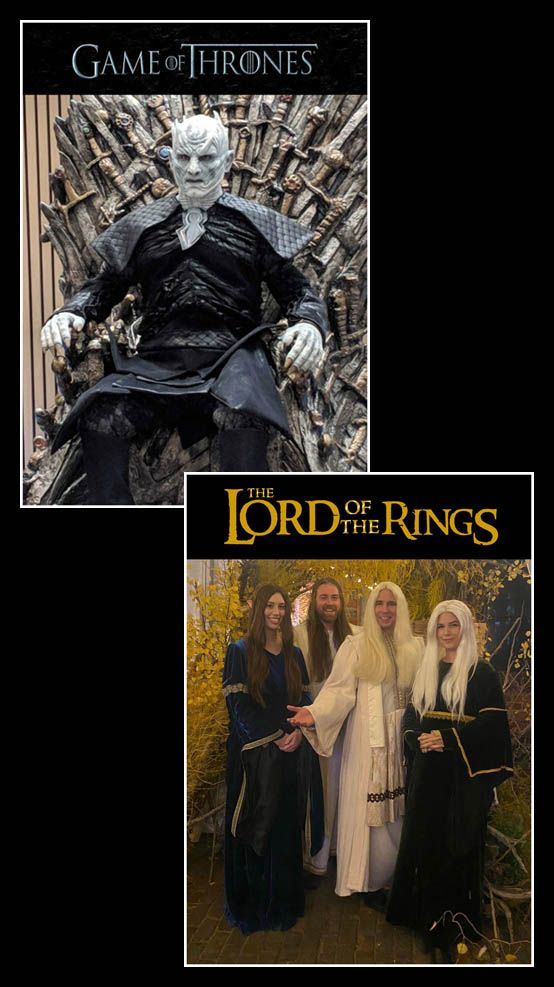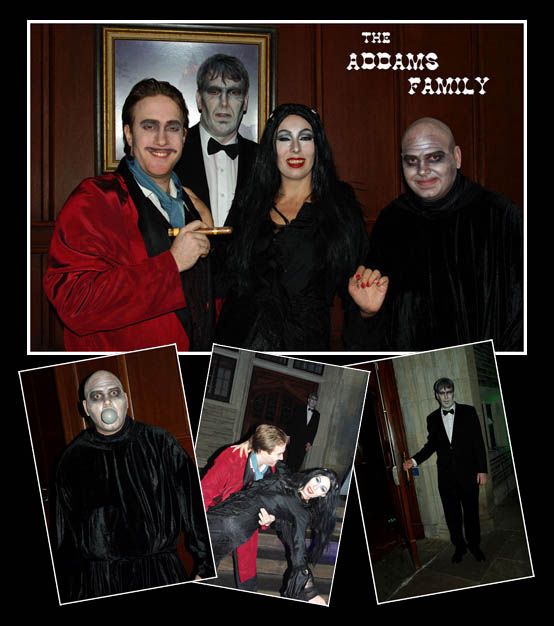 Are you having a corporate event involving officially licensed character costumes but need actors to wear them?  Look no further!  Our professional actors are ready to dress up and become any character you send us and will research these characters ahead of time to completely become them in both look and feel.  So bring us characters from your favorite TV shows and movies, we have actors of all shapes and sizes ready to add that spark to your event!  Send us your costumes and we'll bring them to life!
Celebrity Impersonator Walk Around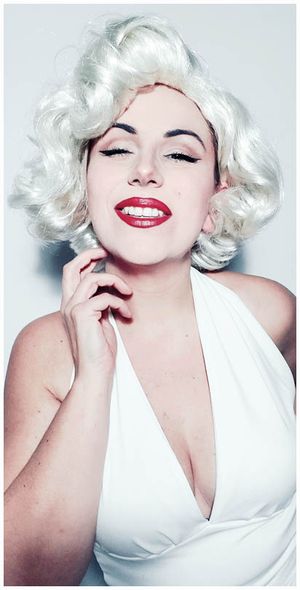 Hosting an event and in need of an iconic celebrity impersonator to show up in character to charm, mingle with and pose for photos with your guests?  We've got 'em!  Although all of our celebrity impersonators perform musical acts, if you just need them to walk around your event in character, they'll be happy to do that too!  When these performers dress in their roles, they "become" their roles, and stay in character throughout their entire visit.  Want to leave your guests completely star-struck? Contact us for more details!            
Stormtrooper For Hire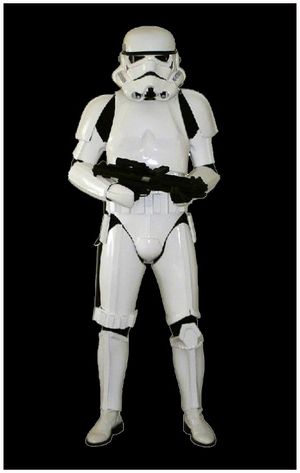 Star Wars fan?  We thought so.  Are you looking to keep the rebel alliance from infiltrating your corporate or special event?  We have the perfect solution...  One incredibly authentic Stormtrooper to stand guard at the entrance of your venue to make sure your guests arrive on time.  Lateness will not be tolerated!  When he's completed his guard duty and all your guests have arrived and are accounted for, he will then take to foot duty, wandering around the venue among your guests, making sure they are kept in line (and of course, posing for as many photos as they want).  This truly is a head turning and iconic Star Wars character that will have your guests talking about your event for months!  A perfect fit for Star Wars themed events, corporate events... or even weddings!  It doesn't matter what kind of event you're throwing, ever since the Empire fell, these guys will take any work they can get.  Why not help a Stormtrooper out?      
Canadian Mounties & British Royal Guards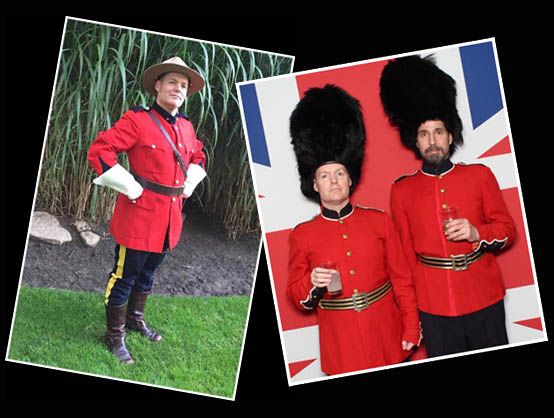 Are you having a Canadian or British themed event?  Or perhaps you're just looking for a couple of these guys to guard the entrance of your big event for effect.  Whatever the occasion, our Canadian Mountie and British Royal Guard performers will make a statement (and maybe even take some statements) while mingling with guests at your special event.  Perfect for all sorts of occasions and you can book any number of Mounties or Royal Guards, both male and/or female.  All you need is an imagination and the ability to contact us for more details!
Great Gatsby & Old Hollywood Themes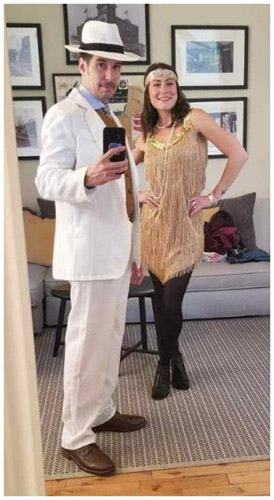 Are you having a "Great Gatsby" or "Old Hollywood" themed party or corporate event?  We have just the right actors, costumes and ideas to turn your event venue into the perfect speak easy.  Everything from an authentic Jay Gatsby suit to an endless supply of Flapper Girls to bring you and your guests back to the roaring 1920s in both style and ambiance.  F. Scott Fitzgerald would have been proud to attend an event highlighting his book in such perfect detail!  Whether you're having a Great Gatsby or Old Hollywood event, we've got everything you need to take it to another level!   
Ice Queen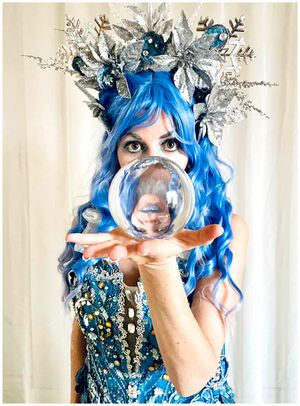 The Ice Queen is a walk around (roaming) performer that will add a chilly, magical flare to your event.  She will dazzle your guests with her floating crystal ball and light up LED glow wings... just send her into the crowd and watch the magic happen.  Perfect for winter/ice/snow themed events (ie: Fire & Ice themes, etc), Christmas/Holiday parties or any time an event needs a head-turning burst of something cool and refreshing.  Looking for something fun and different?  This is it! 
Disco Cat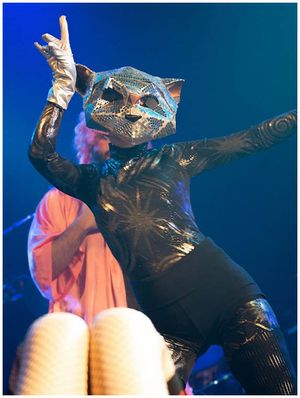 This is probably one of the most unique costumes you've ever seen.  Disco Cat has a head that shines like a mirrored disco ball and is a head turner wherever she goes.  She has a stage show that involves some dance/robot moves or can be booked to walk around your event and interact with your guests.  Everyone wants a photo with Disco cat and she always obliges!  Disco Cat is a must for 1970s/Disco themed parties but will also add some unique flare to any other indoor or outdoor event.  Looking for something that will have your guests talking for weeks?  We're confident Disco Cat will do just that!   
Mermaid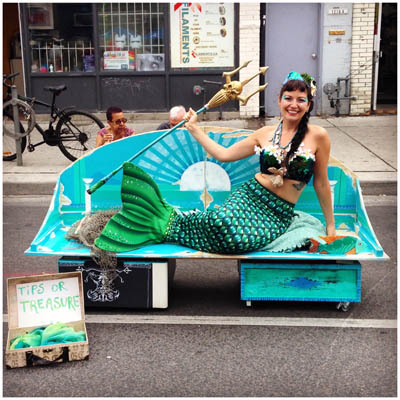 They do exist!  At least, in our world they do.  This is one amazing costume that makes you wonder how our beautiful Mermaids get around out of water.  Well, sometimes they stay in one place while people come up to them for a photo or two... and other times they get carted around your event on a unique platform on wheels that is just as beautiful as the Mermaid herself!  Mermaids have always been a mystery throughout time, but that mystery will be solved when one shows up at your festival or event... and don't worry, she won't bite.
Hire a Town Crier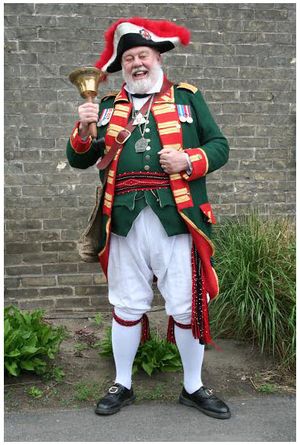 HEAR YE! HEAR YE! HEAR YE!  Do you have a new or expanding business and want to add something special for its grand opening?  Or do you have a personal announcement you'd like to make a lasting statement with?  Our professional Town Crier has over 25 years of experience getting people's attention with his booming voice, authentic costume and personally written cries that will turn heads at every corner.  Make your grand opening, ribbon cutting ceremony or personal announcement one to be remembered and have your message heard! 
Check out a sample video of the Town Crier
SANTA CLAUS
Corporate & Private Holiday Events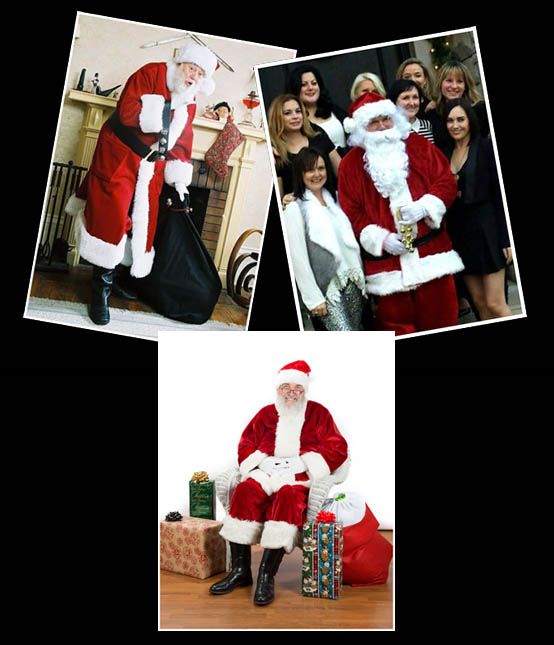 Tis the season!  Are you looking for Santa to make a detour in his travels and stop by your event to entertain the kids and adults alike?  We're lucky that Santa enjoys going where we send him!  He'll make an appearance at your corporate Christmas party to entertain kids, pose for photos and hand out your gifts... or show up at your office party to find out who's been naughty and nice!
During the holiday season Santa books up quickly, so be sure to book early and make sure he pays a visit to your party or event!
Have questions or would like to book?
Call or Text us at:  
Monday to Friday:  9am - 9pm 
Weekends:  10am - 6pm
Click here to CONTACT US
You can text or message us using our Contact Form 24/7! 
*Please Note:  Text messages are returned within 24 hours.  If your inquiry is urgent, please call or contact us via our Contact Form during business hours