Fire, Glow & Freakshow
Offering a fantastic selection of Toronto's most amazing fire, glow & freakshow performers for your corporate and private events.  From mesmerizing fire & glow hula hoop acts to incredible fire dancers and mind-blowing freakshow performers for that element of shock and awe.  If you want to leave a lasting impression on your guests, look no further! 
Call or contact us for more details! 
FIRE & GLOW HOOPS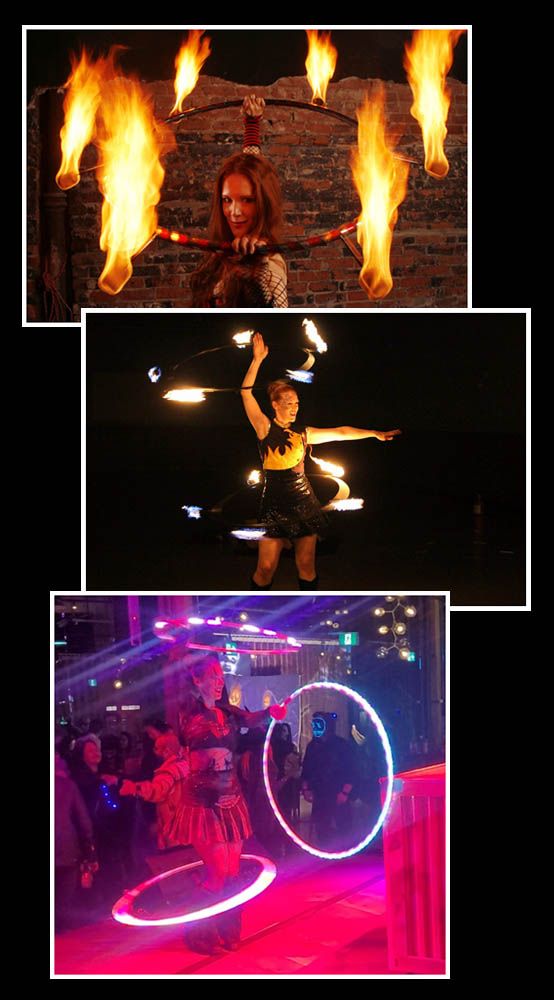 Remember the infamous Hula Hoop you had when you were a kid?  We bet you've never done anything like this with them!  Our amazing glow and fire performers are multifaceted, hypnotic performers with delightfully playful styles.  Their mesmerizing fire and glow hula hoop performances, turn heads at every instant and captivate audiences wherever they are!  If you're looking for something amazing for your event that will have your guests talking for weeks, you've found it!
FIRE SWORD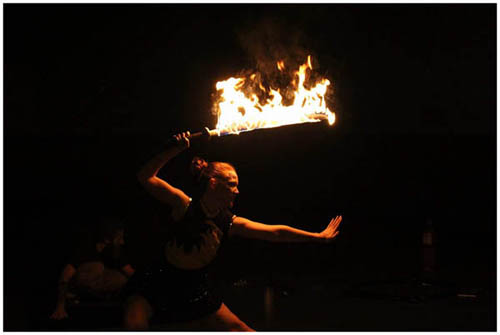 Want to dazzle the guests at your event with something beautifully different?  Our fire sword flow performer is an expert in the art of fire dance and this act turns a typical fire dance up a notch.  The beauty and precision control of a flaming sword is truly a sight to behold.  This head turning performance will definitely turn up the heat at your special event!
LED GLOW WINGS DANCE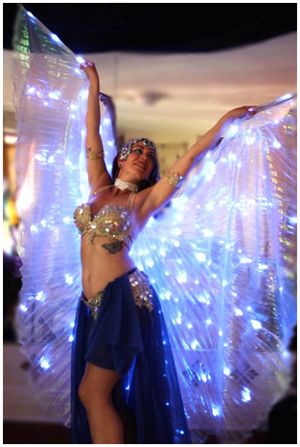 This eye catching belly dance routine captures the art of dance mixed with the beauty of colour.  The colour changing LED lighted wings will have your audience in a trance as the glowing wings wave magestically around our our skilled dancer.  This performance is ideal for low light areas and it can also be booked as a walk around performer to add some colourful flair to your event as she mingles with your guests.  It will definitely, make your party or event one to remember! 
FIRE BELLY DANCE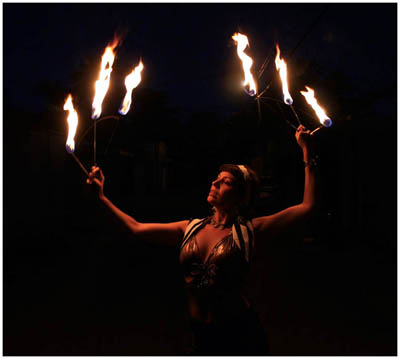 This head turning belly dance routine captures the art of dance mixed with the thrilling beauty of fire.  Our incredibly skilled dancer will capture the attention of everyone as the flames in her hands light up the event.  This performance is ideal for low light situations either indoors or outdoors.  If you're looking to turn up the heat on your guests with a beautiful and memorable dance routine, look no further... this is it!
FREAKSHOW PERFORMERS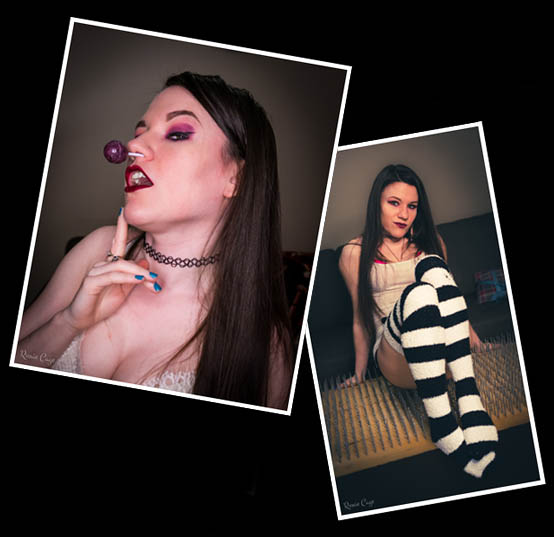 Roxie Cage
Roxie has been performing freakshow acts for over 5 years and has a fantastic reputation for delivering high-quality and thrilling shows that will leave your guests speechless!  Her amazing acts include:
Human Cutting Board:  Demonstrating how she can cut produce on her bare flesh with machetes without bleeding or feeling pain.
Machete Ladder:  Climbing up a ladder made of machetes with her bare feet.
Blockhead Variations:  Inserting various objects into her nose, including candy, neon wire, and even a power drill.
Animal Traps:  Snapping animal traps on various body parts without flinching.
Nailbed:  Lying down on a bed of nails and have someone stand on top of her.
Glass Walking:  Walking barefoot on broken glass.
Modelling Straitjackets:  Wandering around the audience bound in a straitjacket for fun photo opportunities.
Human Tip Jar:  People can staple money to her skin using a staple gun.
You can bet she'll grab your audience's attention, and might not give it back!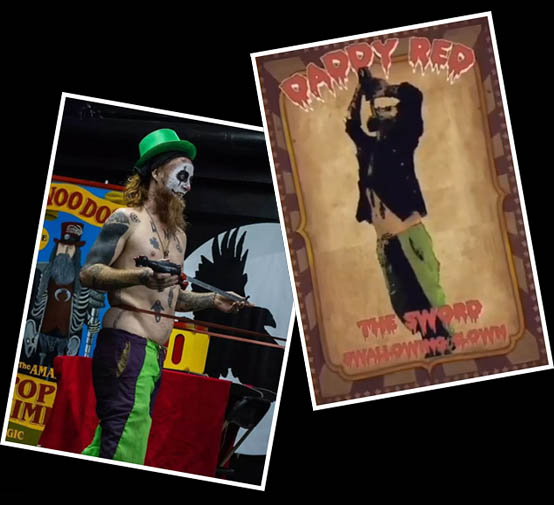 Daddy Red - The Sword Swallowing Clown
Daddy Red has been a sword-swallowing freakshow performer for 10 years and is no stranger to danger.  His sword swallowing act is second to none because he was born without the "fear" gene.  Oh, he'll also swallow two swords at once, walk barefoot on broken glass and if you like is act so much that you feel he deserves a tip, he'll let you staple the money right onto his body (or face) using his staple gun.  All good clean fun for the whole family (maybe not).  This sideshow act is not for the faint of heart but remember, he's the only one in real danger (and he's ok with that).
Have questions or would like to book?
Call or Text us at:  
Monday to Friday:  9am - 9pm 
Weekends:  10am - 6pm
Click here to CONTACT US
You can text or message us using our Contact Form 24/7! 
*Please Note:  Text messages are returned within 24 hours.  If your inquiry is urgent, please call or contact us via our Contact Form during business hours